Fall 2017 brings us really nice weather (we hope!) and some fun events:
Seafood & Music Festival — Saturday & Sunday September 9 and 10. "Been there, done that"? Give it another shot! More upscale food vendors will offer lobster, crab, grilled oysters, and crab stuffed artichokes, in addition to the usual Gumbo, Alligator Nuggets, etc.
The Rotary Club of Pittsburg will pour beer, come by and say Hi!
Live music is programmed all day both days, with something for everyone. Some of the bands scheduled are: High Water Blues, The PHDs, Nova, Threshold Rocks, Project 4 Band (and many others).
Jet ski races and a kid's carnival are also offered both days. Here's the website: http://www.pittsburgseafoodandmusicfestival.com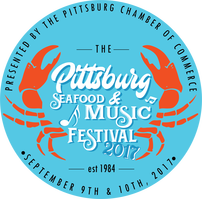 Art Walk with popup galleries and wandering musicians on Saturday 9/16 starting at 11am Railroad Avenue & 6th Street in Old Town Pittsburg.